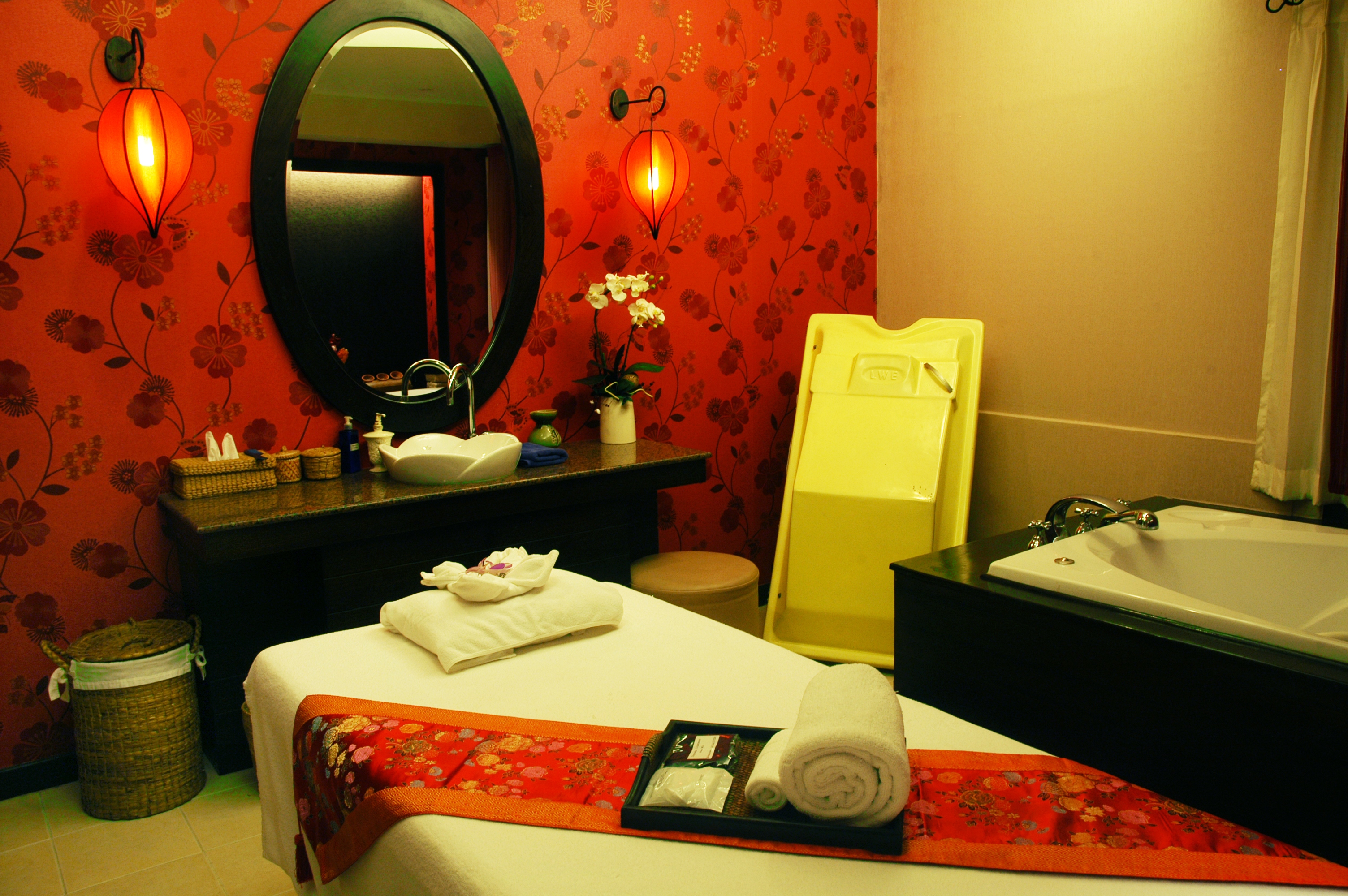 Thai Massage (60 /90 /120 mins 550+ / 800+ /1,000+ THB)
Thai massage is wonderfully therapeutic and work to release hardness and tightness in the muscles through massaging pressure points as well as stretching the muscles, eith methods similar to yoga exercises.
Head, Back and Shoulder (30 mins / 350+THB)
Target specific areas of tension while on a tight schedule
Indian Head Massage (45 mins / 850+ THB)
Warm oils are massaged gently and firmly onto the scalp and into hair roots, to nourish hair while creating soothing relaxation
Rasayana Foot Massage (60 mins / 550+THB)
Turn tired into happy feet with this one hour treatment
Aromatherapy Massage (60 mins / 1,300+ THB)
A soothing massage using your choice of Rasayana's Signature Aromatherapy Oil Massage.This will leave you deeply relaxed and floating on a sensual cloud of heavenly aromas
Swedish Massage (60 mins / 1,300+ THB)
A Soothing treatment that release tensions from body and mind
Sport Massage (60 mins / 1,600+ THB)
A deeper massage using specialized oils to target sore muscles associated with exercise or poor posture
Slimming Massage** (60 mins/ 1,600+THB)
This is one of our special signature massage using only our therapist's hands and skills on problem areas.
We use a very high quality special blended massage oil along with slimming cream imported from Australia** Only available in Bangkok Branch
Abdominal Pulse Massage "Chi Nei Tsang Massage"
( 1.5 hour = 2,200+ THB)
The Rasayana Meridian Abdominal Massage releases areas of tension in the bowel and other abdominal organs, allowing toxic matter to detach from the bowel wall and other tissues, so that it may be released during the colonic.This abdominal massage also helps in releasing stress that is held in the bowel, a significant cause of constipation in many people.
Rasayana's Signature Massage (90 mins / 1,950+ THB)
A unique blend of Thai and Swedish Massages It will unwinds tension held in the muscles using a combination of pressure point massage, oil massage techniques and stretching.
Thai Herbal Compress With Oil Massage ( 1.5 hr. / 2,000+THB)
A traditional Thai herbal therapy soothing muscle tension and stiffness on key areas.This healing session begins with the application of warm Thai herbal poultice, which contains a variety of therapeutic. Thai herbal & spice,It is then followed by a full body massage with well-selected herbal oil.
Lymphatic Drainage Massage (90 mins / 1,950+ THB)
This massage manually moves lymph through the body to the bowels, carrying a variety of toxins, dead cells and old tissues, so that it can be released.
A colonic, as well as drinking lots of fluids, is highly recommended after this therapeutic massage.
An effective scrub, using specialized salts from the Himalayan mountains
Sesame Lavender Body Glow
A gentle exfoliation that leaves your skin soft, cleansed
Naturally whitening, An age-old Thai beauty treatment using a blend of tamarind fruit, yogurt to exfoliate, nourish and polish the skin.
Thai Herbal Kaffir Lime Scrub with Yogurt and honey
This exfoliating scrub alkalinizes and nourishes the skin, healing the effects of the sun, while stimulating the circulation.
**It is highly recommended after the Infrared Sauna.**
FACIAL TREATMENT
Facial treatment 90 mins 1,600+THB.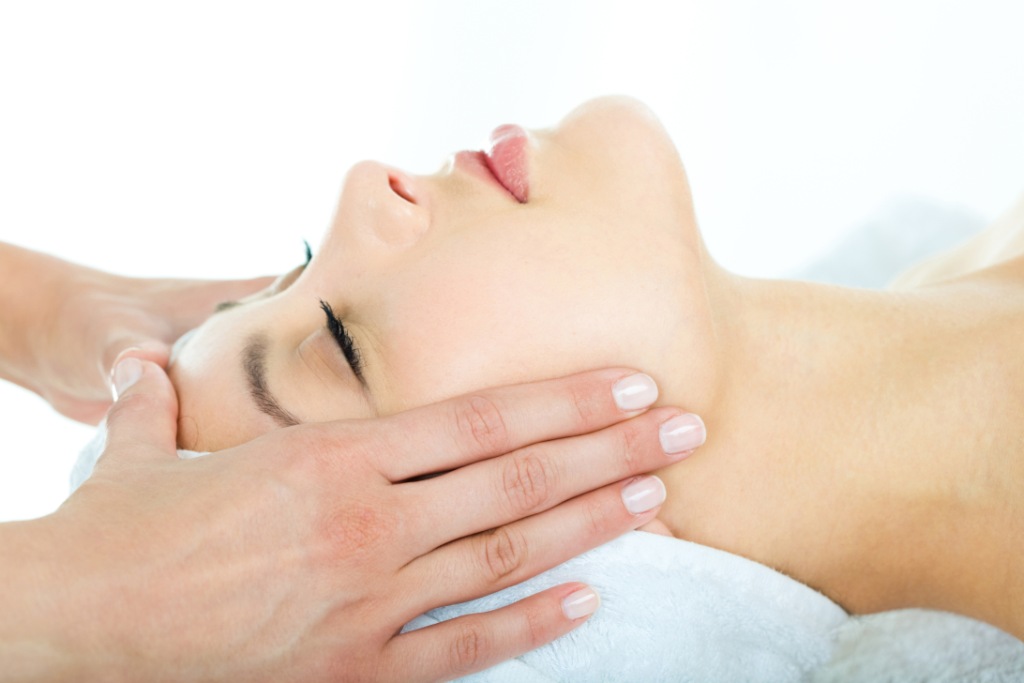 This mask intensely moisturizes calms and fills skin with complex natural ingredient. Main Ingredient: Neem leaf & Flower Extract, Ivy Gourd Fruit Extract, HyaluronicAcid,Panthenol (Vitamin B5 Complex), Strawberry Fruit Extract
Less Oil More Grace ( Deep Cleansing )



Optimize your skin's health and radiance with mask treatments that specifically address your skin type. It gently buffs away impurities, refines skin texture and improves tone. Your skin is rendered wonderfully smooth and rejuvenated.Main Ingredient: Pineapple & Papaya Enzyme, Chamomile, Green apple
Brighter than (Brightening)
This superb mask unites Kaolin, Bentonite, Glycerin, Titanium Dioxide with theother ingredients to render skin healthy, lighter in color, hydrated and fresh Main Ingredient: Kaolin, Bentonite, Glycerin, Titanium Dioxide, Fruit Extract
Skin Recovery ( Sensitive )
Desensitize for visible improvement! Creamy and gently alleviating, SensitiveSkin Mask immediately calms your skin with a select combination of Zinc Oxide and Shea Butter. These ingredients harmoniously blend with other key agents to diffuse redness and soothe irritation for a calm, smooth appearance.Main Ingredient: Zinc Oxide, Shea Butter, Chamomile, Azulene
Castor Oil Pack (30 mins / 550+ THB)
Castor oil pack is an external application of castor oil. A piece of wool flannel is saturated in castor oil and applied to the abdomen with a heating pad. Castor oil packs improve assimilations, eliminations and circulation especially of the lymphatic system.
Detox Bath / Balneotherapy (40 mins / 850+ THB)
An important part of the Cleansing Program, the Rasayana Body Detox bath combines a Sea Salt Scrub, with ingredients, such as Juniper, Green Tea and Apple Cider Vinegar, known to activate elimination through the skin and lymph.
Far- Infared Sauna (40 mins / 1,050+ THB)
Unlike a conventional sauna, the Far-Infrared sauna heats the users skin directly without heating the air, and penetrates the skin up to 1.5 inches, effectively supporting the body to release toxins.The energy used by the body to send more blood to the capillaries and to convert fats results in as much as 600 calories to be burned by the body in a 30 minute session.
Detox Clay Wrap (30-45 mins / 1,050+ THB)
This wrap enhances elimination from the skin and lymphatic system, while stimulating the circulation. It is highly recommended to augment your cleansing program
---