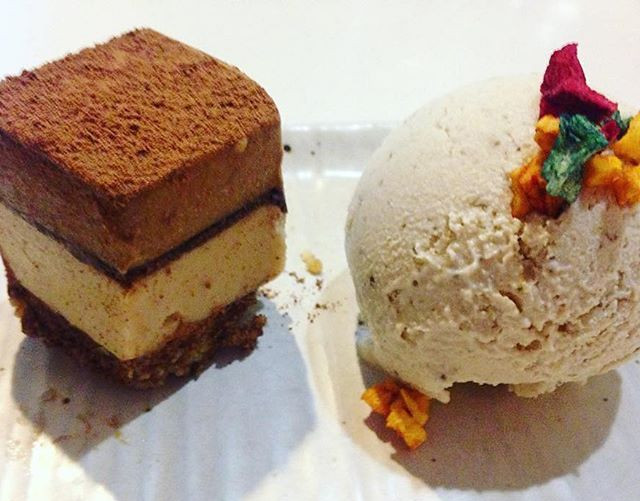 Banoffee Pie 180.-

Activated live walnut, dates and raw cacao base with a layer of naturally sweet Thai Banana and layered with live homemade cashew cream. Sprinkle with Raw Cacao.
Lemon Tart 180.-
A zingy and happy combination of fresh lime juice, turmeric, agar agar and light cashew cream on a soft crust of macadamia, desiccated coconut, and coconut sugar.
Raw Cacao Mousse Tart 180.-
A luxurious creamy layer of young coconut meat, with a layer of thinly sliced Thai Banana, topped with a melt in your mouth smooth raw cacao on an activated macadamia base.
Raw Strawberry Cheese cake 180.-
Rich and creamy live cashew cheesecake with layer of strawberry cashew cream on a raisin, activated almond crust.
Tiramisu 180.-
Activated walnut date base, layered with cacao chocolate between vanilla coconut cream (coconut&almond milk) and coffee cream (dandy blend & cold brew coffee) Sprinkled with cacao powder.
Pumpkin Pie 180.-
No real pumpkin in this dish! We use avocado, carrot, pumpkin pie spice, and coconut nectar to create a cream filling.The pie crust made from activated walnut and dates.Sprinkled with cinnamon powder.
Carrot Cake 190.-
Shredded carrot, apple, pineapple, raisins, marinaded with cinnamon and nutmeg spices.Layered with cashew lime cream.Sprinkled with cinnamon powder.
Banana Ice Cream 150.-
Creamy frozen local Thai bananas mixed with macadamia nut cream and vanilla.Vanilla infused Rosemary
Ice cream 150.-
Creamy frozen Local Thai bananas with cashew cream, infused in rosemary.

Mango Sorbet 150.-

Strawberry Sorbet 150.-